The Lonely & Great God Tour
Trip Detail Info
Overview
Goblin: The Lonely and Great God Tour : "Dokkaebi" is a popular Korean drama and it was first aired on December 2, 2016 in South Korea. The English name of this drama is "Goblin: The Lonely and Great God". In ancient times, Kim Shin is an unbeatable war admiral but the young King is jealous of him and kills him. After that Kim Shin becomes a Dokkaebi and waits 900 years for his human bride to end his life…. This drama all about love story between Dokkaebi, Grim Reaper and humans.
Highlights
• Samcheongdong • Unhyeongung Palace • Deoksung Woman High School • Bukchon Hanok Village
Inclusions
• Guide
Exclusions
• Tickets for the tour. **purchased on site** • Pick-up or Drop-off service before/after the tour (possible if requested) • Lunch / Refreshment
Remarks
1. In case of traffic jam, the pick-up vehicle may arrive later than the designated time. 2. Pick-up and drop-off service inside Seoul is possible. extra charge 3. As Gyeongbokgung and the National Folk Museum of Korea are close on Tuesdays, the tour will instead visit Deoksugung. 4. If the temperature falls to 5 degree celsius or in cases of snow and rain, the Changing of the Royal Guard ceremony may also be cancelled. 5. Because this is a group tour, if you do not arrive on time, the Guide will not wait for you for more than 5 minutes.
Point1
Samcheongdong-gil Road stretches from Gyeongbokgung Palace to Samcheong Tunnel. At the end of the walkway just past the tunnel,
you'll find Samcheong Park - a park famous for its thick forest and scenic views.

Samcheongdong-gil Road goes through the middle of the city, but is a peaceful, quaint area.
The street is lined with cafes, museums, antique shops and a number of famous art galleries.
Since each building along Samcheongdong-gil has its own unique architectural design,
taking a walk and appreciating the buildings is a journey in itself.
Many galleries have their own cafes, restaurants, or craft shops, allowing visitors to enjoy art, shopping, and lunch all under one roof.
Point2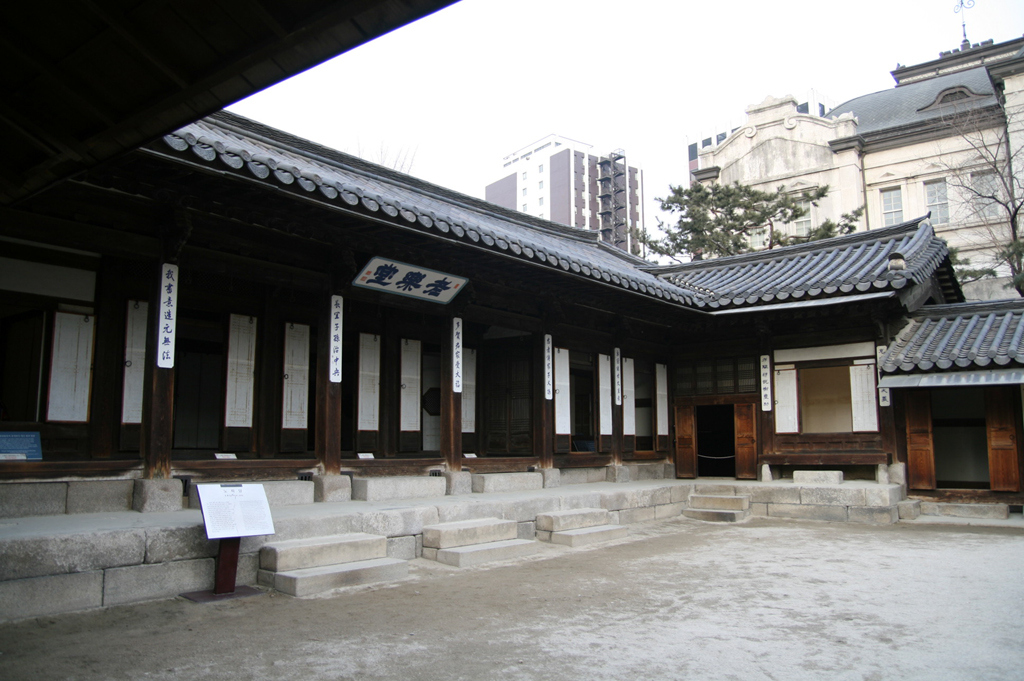 One of the amazing things about Seoul is that some of the most interesting historical sites are right in the middle of the business districts. Located near the Jongno Police Station and the Japanese Cultural Center, Unhyeongung Royal Residence is one such site.


Unhyeongung Royal Residence was the home of young Gojong, who later became Emperor during the Joseon Dynasty. Under order of Queen Mother Jo, Unhyeongung was renovated into a grand, palace-like house with four gates. Gojong's father, Yi Haeung, or better known as Heungseon Daewongun, continued to live at Unhyeongung for most of his life. Damaged during the Japanese colonial period and the Korean War, the Unhyeongung Royal Residence seen today is a much smaller version of the majestic structure that it used to be.

Point3
Deoksung Women's University
The house of the Great Goblin
Which is located at the Deoksung Women's University campus
The structure of the house is not like traditional style of Korean.
It was very much inspired from the western architecture.
Point4
Surrounded by Gyeongbokgung Palace, Changdeokgung Palace and Jongmyo Shrine, Bukchon Hanok Village is home to hundreds of traditional houses, called hanok, that date back to the Joseon Dynasty. The name Bukchon, which literally translates to 'northern village,' came about as the neighborhood lies north of two significant Seoul landmarks, Cheonggyecheon Stream and Jongno. Today, many of these hanoks operate as cultural centers, guesthouses, restaurants and tea houses, providing visitors with an opportunity to experience, learn and immerse themselves in traditional Korean culture.

Know Before You Go
(Goblin Shooting Place)*Seoul Daily City Tour
Product FAQ
| | |
| --- | --- |
| What is this place for? | Seoul trip |
| Is reservation necessary? | Reservation only |
| Do you issue receipts for my purchases? | Receipts are issued |
CHECK LIST
| Amenities CHECK LIST | Common |
| --- | --- |
| WiFi | |
| 110/220/240 Volt | |
| Wheelchair accessible | |
| Male and female toilets | |
| Disabled toilet | |
| feeding room | |
| Stroller accessible | |
| Parking lot | |
| Stroller rental | |
| Interpreter service | |
Products offered notice
| | |
| --- | --- |
| Travel agency | Cosmojin |
| Airline you're using | - |
| Trip period and itinerary | 9 hr |
| Estimated total persons, departing members | 10 / groupe |
| Lodging information | See detailed description |
| Included details | See detailed description |
| Additional charge items and price | Teckets & Personal expenses |
| Cancellation policy | See detailed description |
| For international travel, travel alert levels designated by the Ministry of Foreign Affairs and Trade | See detailed description |
| Booking department contact number | See detailed description |
SNS INFO
Seller Info
Business name
COSMO.JIN / Jung MyungJin
E-Mail
shpark@cosmojin.com
Telephone number
+82-023183405
Address
04533,16, Eulji-ro, Jung-gu, Seoul, Korea,
309
Business Registration Number
1058631215
Online Transaction Business Registration No.
제2008-서울중구-0266호
Refund Policy
1. Both card and cash are accepted.
2. All product and sevice prices are indicated as the provider's prices. If you ask for a tax invoice or pay with a Korean credit card, additional VAT of 10% will be added.
3. In case of on-the-day cancellation, 70% of the product of service prices will be charged as a cancellation fee. (Cancellations after 18:00 on the previous day will be counted as on-the-day cancellations.)
In case of natural disasters or severe weather incidents, the trip may be cancelled and there will be no refund.
Cancel 1 day(s) before, 30% refund.
Cancellations made on the day of the trip and consecutive days after amount to NO refund.
The cancellation period (cooling-off period) for each payment method is as follows:
*If you try to cancel past this period, the cancellation will not be processed.  
Credit Card: 1 year after purchase
Union Card: 1 year after purchase
Paypal: 180 days after purchase
Tenpay/Wechat/Alipay: 90 days after purchase
Reviews
There are no registered reviews.
There are no registered reviews with photographs.
Product Q&A
Other trips